We are here for you!
Orchid Bay Yacht Club & Marina is located at the very beginning of Great Guana Cay harbour, on the right hand side as you enter the harbour by boat.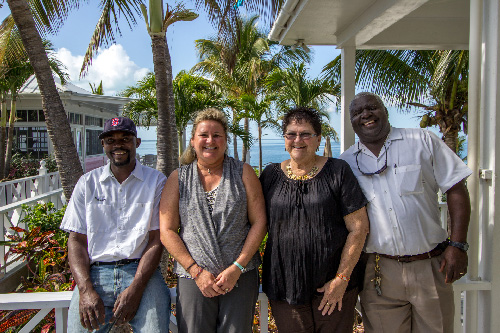 We are a full service marina with all you need for recreation on land after a few days at sea. We have fuel, water, electricity, Ice, soft drinks and complementary coffee in the reception area.
---
The two famous Bahamian chefs Stephen Beneby and Carlos Newton at our restaurant Sunsetter, are ready to accommodate your culinary needs with exquisitly made local dishes based on fresh fish, meat and vegetables. They make everything from scratch, even the sorbet and the cakes for desert.
While they and the kitchen staff prepare your lunch or dinner, you can enjoy the beautiful view to The Sea of Abaco from the restaurant deck, while the welcoming waiters bring you a frozen, tropical drink or an ice cold beer with a smile.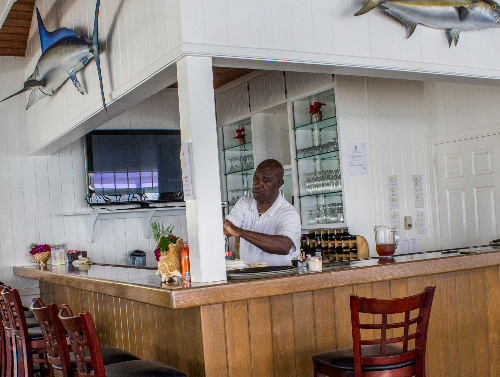 ---
The marina offers bathrooms with showers, laundry service, the use of a fresh water swimming pool with a lounge area and a tennis court. In our welcoming reception area you can buy soft drinks, ice, souvenirs, t-shirts, towels, handcrafted straw products and more. Read more about our services HERE.
"We want our guests to feel welcome here at Orchid Bay Yacht Club & Marina. Our staff is highly motivated and will do their best to give you a wonderful experience. Abaco is a boating and vacation Paradise. We hope you'll enjoy all the good things Abaco has to offer, and that your boating adventure is one that will create great memories for years to come."
Jimmy and Melanie Albury, Managers
---